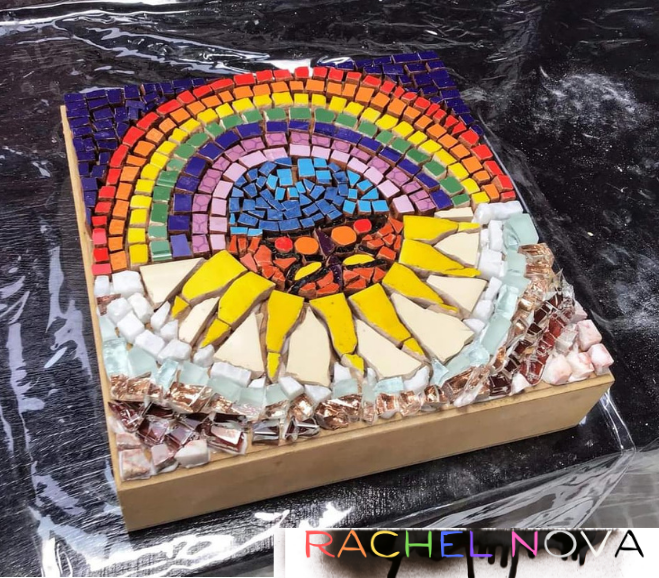 Written by rachelnova on February 28, 2022
Mosaic Arts: Cuenca, EC.
Creative Journey
Hello!

Welcome!

Let me get right to it: I need to build a mosaic art studio… ASAP. I would NEVER leave it. I recently took a mosaic art class (a series of classes) at an art studio in Cuenca, Ecuador called idiomART. It was a little bit more advanced of a class, but I was catching on. I just did a smaller project for my first one rather than something large like the other more advanced students did. I love my little wooden box so much.

In this blog post, I share my process and love for mosaics. (And, putting it out in the universe that I want to be a mosaic artist and teach classes one day!)

I free drew a random design on the first day of class. I did not know beforehand, and I loved the idea of having different elements on the box. The sky (air) with rainbow, the ocean (water), and we got some sun (fire) and a little earth on the bottom, you will see more of these details in the next photos.

In the photo below, you can see I just started the rainbow. I used this tool that looks like a hardcore scissor to break the ceramic pieces into small pieces and my pieces were very tiny compared to the other students in the class. I loved how small the pieces were and the texture and movement it added to my overall image. I glued them on with regular glue to start.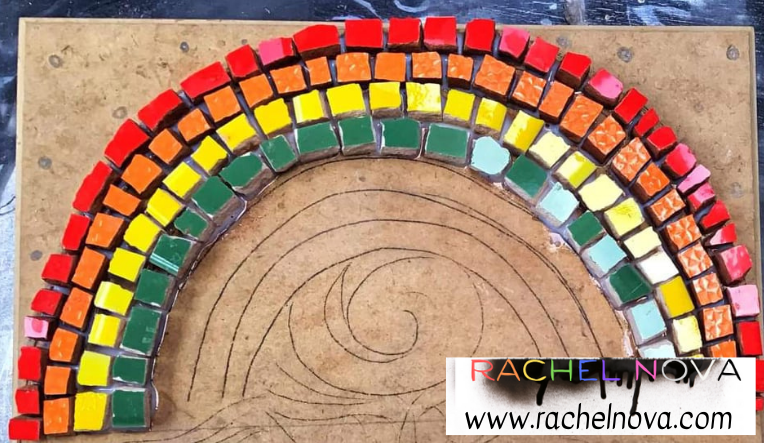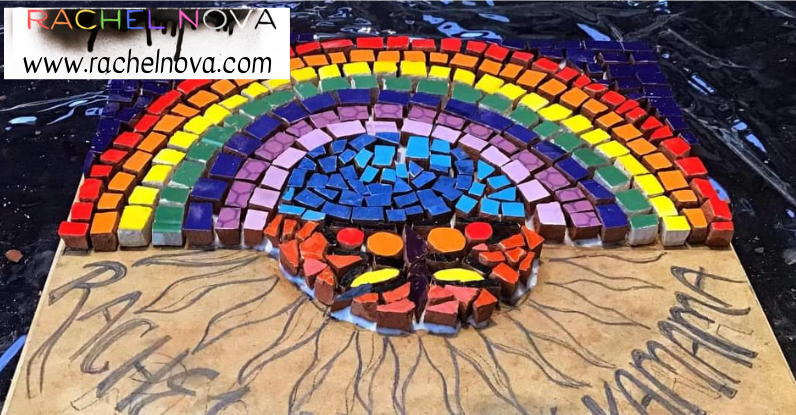 I went at it the second day and did not want to stop. I loved the feeling of the image coming together! You might not be able to make it out, that is a butterfly in the middle. It was tricky because it was so intricate, and the pieces took mad skill to cut that tiny and specific to fit! I loved the sun rays; I think it made the image so interesting and added movement. I ended up removing my name as it just did not fit and was too intricate for my first mosaic. The butterfly represents Kamama (butterfly) part of my Cherokee name. Love it so much!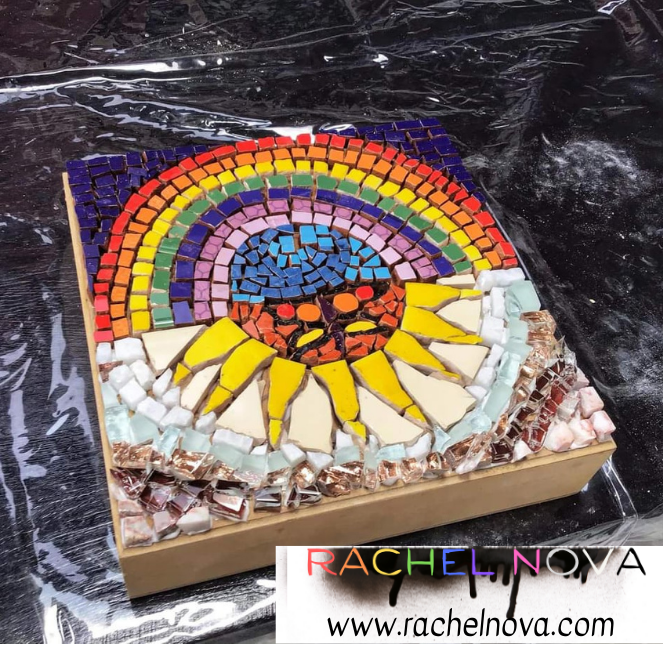 I was leaving the city, so I had to speed up some progress and stayed after class a bit which reminded me of all how I was stay up all night in my art studio during art school or even in high school – the art room was my place to be. I finished placing all the pieces on the front and I cut some glass pieces for the bottom which added a new element and smoother feel/texture. Beautiful!

I loved the who process of mosaic artmaking. Drawing and transferring the design, cutting the pieces, and choosing colors by searching through them all! It is such a hands-on process which I love. I liked feeling all the textures. Breaking the pieces was an art. Also, I had to make sure I did it safely! I liked the pure detail which honestly could drive some people crazy, but it was so therapeutic to take my time with each piece. I experienced a flow experience where I lost track of time and place and was just in the moment completely and wanted to come back each week to work on it more.

Next was the grouting process. I was guided by my teacher to pick black grout instead of white to make the colors pop more. We choose black; however, I think white would have also been lovely, too! Gold would have been so awesome if that could ever exist!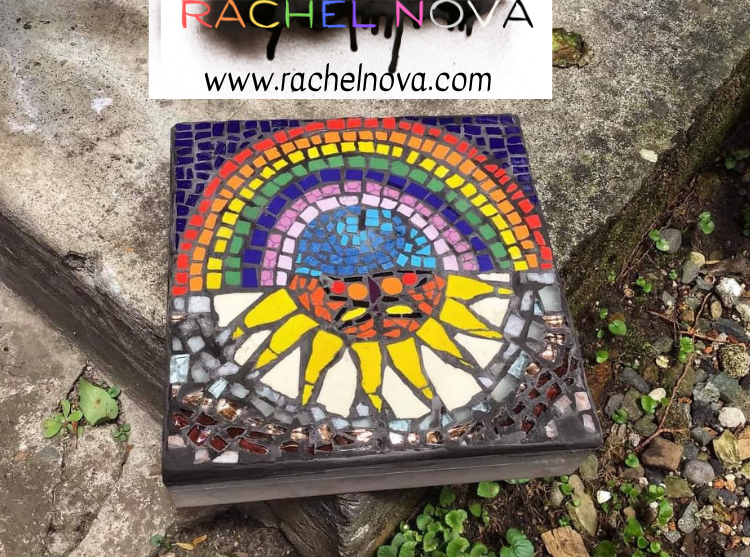 I hope you enjoyed following along with my process a bit! It was so fun to share my little wooden box. Wood is my favorite material to work with as an artist and I sincerely hope I find more ways to incorporate wood into my artwork like this. I feel so at home with wood in my hands.

I hope you stick around and follow along, especially if you are interested in trying mosaic art yourself as this dream will become reality one day. I just know it! I hope to be able to turn you on to the beauty and fun of mosaic art and its therapeutic benefits. If only I could stay in one place long enough! Soon I hope!!

With many vibrant colors to match my many colors and feelings,

Rachel Nova, BFA, MA, Artist
All images © Rachel Nova
Archives
Calendar
September 2023
M
T
W
T
F
S
S
1
2
3
4
5
6
7
8
9
10
11
12
13
14
15
16
17
18
19
20
21
22
23
24
25
26
27
28
29
30
Categories