Hi! My artist's name is Rachel Nova. Nova became like an artist alias (the name was birthed 13 years ago, and I sewed it into my soul ever since) due to how my paintings looked back in art school when I was working on my BFA in painting & drawing. I got into such a flow toward the end of my BFA with the work I was creating, and I really found myself as an artist.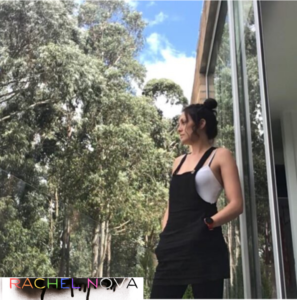 My paintings resembled the cosmos or supernovas. They were like states of consciousness but somehow really grounded in such an earthly way allowing them to naturally change as I also grew and changed. In ways, my paintings represented my internal state and were spiritual experiences for me.
Later, as I grew, I began to channel other people's energy, essence, or what kind of energy they were needing in the paintings that I commissioned for others. When I paint I feel free. I connect to something bigger than me. I stretch my spirit and dance with myself. Painting is my happy place, my safety, my temple. Being an artist to me is a gift I was born with. Being an artist to me is healing, informative, intuitive, and ever-changing. I hope my paintings inspire and touch you as much as they do when I make them.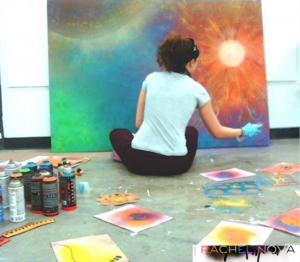 I use mostly spray paint and acrylic paints. I prefer to paint on a wooden panel that I make myself, however, I do paint on canvas when I need the painting to be lighter. I love the heavy feel of wood and I love the way the paint sticks to it.
I have some exploring in the 3D form of art such as sculpture, pottery, art installations, mosaic art, fabrics, fiber, wood, and nature art using natural elements found in nature.
I like to use art as a form of peaceful activism and see my artwork headed in that direction more and more.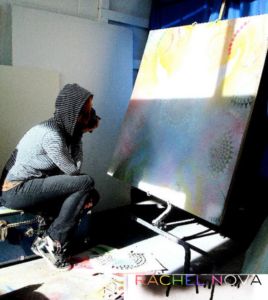 I can also see my art expanding more in the form of illustration, calligraphy, and tattoo art in the future. I find the culture around tattoo art very interesting to study and something I often find myself curious to learn less about current popular culture tattoo art(ists) but more in a way of sociology, spirituality, history, and symbolism.
I have recently started to write and illustrate children´s books for the children I work with as a therapist in my private practice in the Bay Area, CA.
My commissions for paintings are currently closed because I am focused on opportunities to travel and paint murals.
Thank you so much for being here and supporting me.
From my he(art) to yours,
Rachel Nova, MA, BFA, Visual Artist