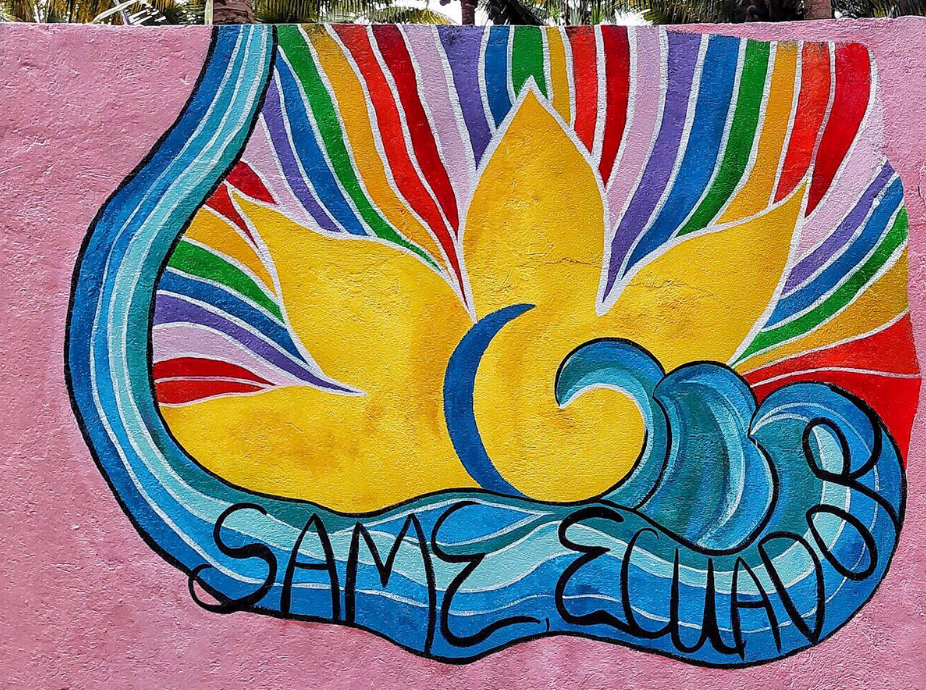 Written by rachelnova on March 13, 2022
Colorful sleepy surfer vibe mural: Same, Ecuador.
Creative Journey
Hi all!

Get ready for many mural entries! So much fun!

I will be honest: I tried to get amped to share my latest mural adventure on here and totally have been putting it off… I have to try because I rarely share my murals. I got into the habit of finding places to paint murals and just detaching and not documenting them, a bit more like street art. My relationship with public art has shifted over the years, and I am beginning to look at it more professionally (skill) combined with my fascination with the lived experience and adventure of painting a mural. I am always changing and growing. It used to be (and still is) so therapeutic for me to leave my art behind without telling anyone, but I promised myself I would try better to document my murals as I travel because I want more opportunities to paint and color the world, ya feel?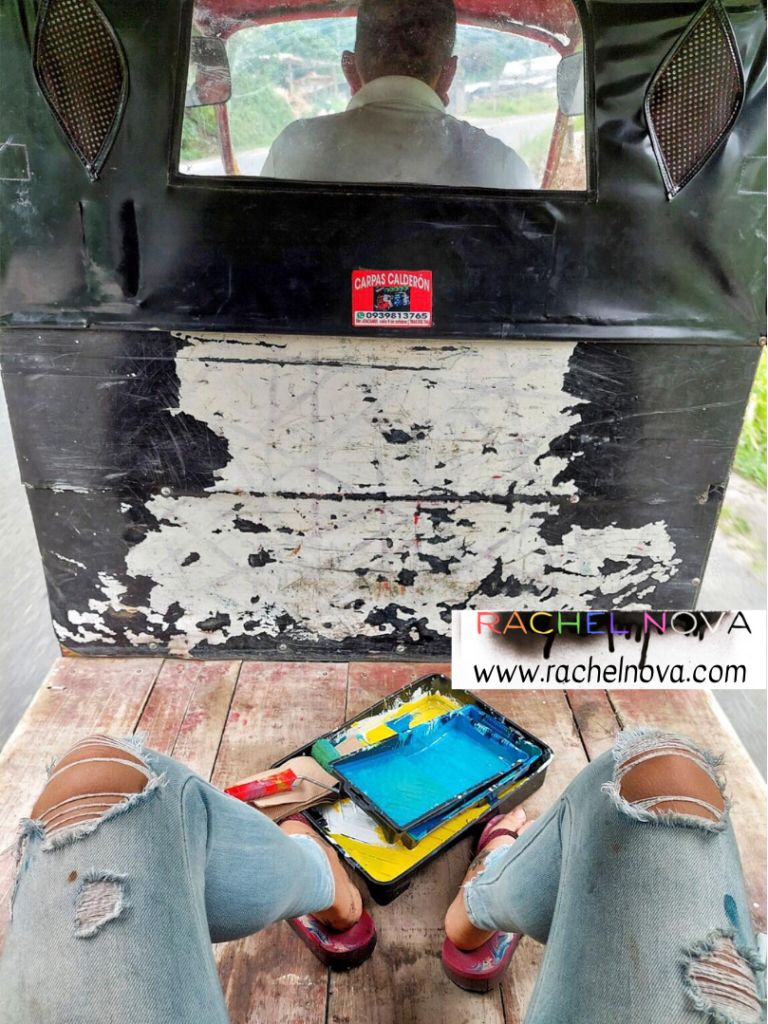 Mural painting is an adventure in itself. I got art supplies sent to me from Cuenca by a friend. One day I was packing everything in this oversized Puma bag I got on the street in Cuenca and realized I could not carry all these supplies to the motor taxi so I had to get a truck to bring the supplies to a woman I know and store it there at her home as I would arrive the following day to start the mural. The next morning, I took a motor taxi (2 afternoons I worked on the mural). And a motor taxi back. I forgot my citronella spray and totally got bitten up by bugs, mostly on my feet because I wore flip-flops. They were ruthless! Everyone was so friendly as they passed, they told me how beautiful they thought my mural was and that was a gift – to connect a little with the community.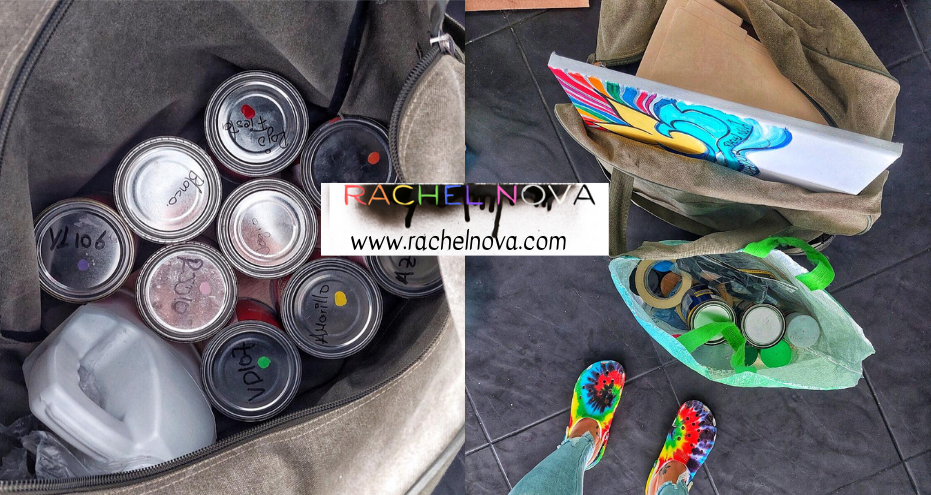 Painting a mural is a lot of work, especially when you are traveling and not familiar with the area. When I was living in the sweet sleepy surf turtle town of Same, neighbor to Colombia… there were no supplies there. I painted a cute little colorful and sunny ocean design and got it approved by the town through a woman I met there. I was so honored to leave my mark as a gift for the town in form of color! ¡Muchas gracias! Painting murals in the places I live and visit helps me in so many ways. Artistically, yes, but also it helps me to process my time there, to thank the area, and emotionally understand my time there. Art is a universal language that everyone can understand and leave public art behind helps me to share a positive message to the community, one in which seeing the image/visual message externally helps me to internalize it internally.


I loved this little street where I painted this mural – you will find a beautiful turtle mural and sea life one as well. Very realistic! I have been loving painting colorful murals that pop and with blocks of solid bright colors, thick line work, and outlining: so simple as if the mural looks like a coloring book. I enjoy this simple style of a mural right now and the feel-good vibes with the solid vibrant colors.
I was stopped by a couple of restaurant owners who wanted to hire me to paint a mural for their restaurant and that was so sweet! I felt like sharing that because I want people to know that their art and what they have to share with the world is important and beautiful, it does not matter if it is super-advanced or detailed… there are people out there that will love what comes from your heart and what YOU like making. Never stop creating what comes from your heart. And, that is where this mural came from… my heart and I love it! Simple, colorful, and sweet!
I wish I had more time to add more to the mural, but maybe at a different time when I visit again and do some commissions for restaurants. Maybe I could get some of the community involved to fill that wall a bit more next time I am there. I wanted the pink color to be more of a salmon color, but the pink turned out so nice and I think it added more vibrance and variety in color to the entire wall of murals.


It was fun! I loved the palm trees in the back behind the mural, it was a pretty spot. Simple. Beautiful. Surfery. Sunshiney. LOVE! Ecuador has the most beautiful street dogs and I get to play with them consistently when they let me. When painting the mural, they get more comfortable with me and will not attack me since I am not jogging (dog attacks for another travel blog post and things I wish I knew!)



Sweet oceanic blessings from my momma sea,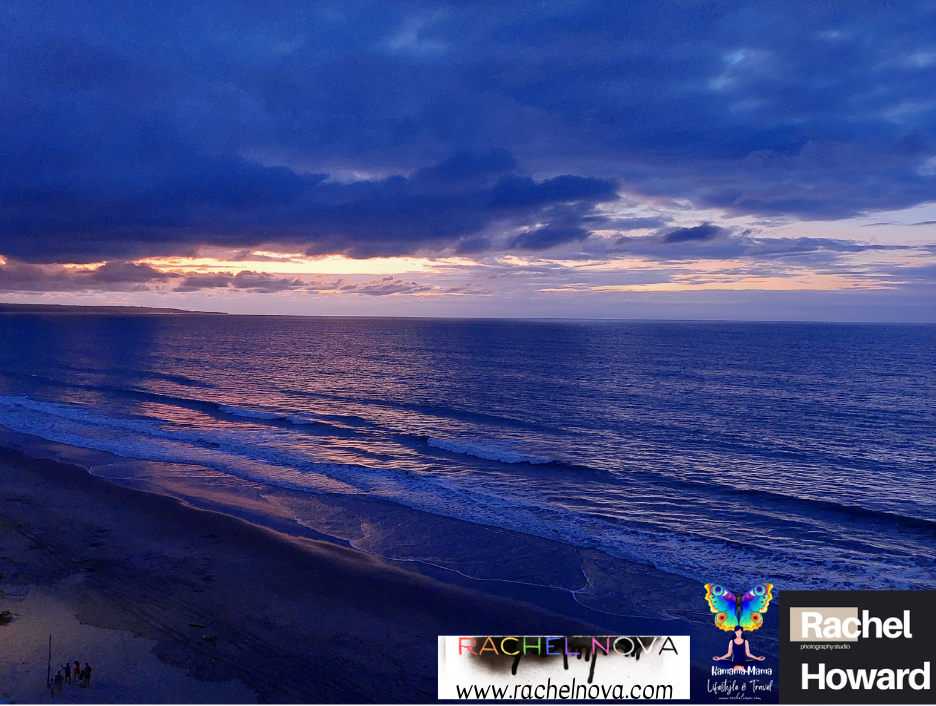 Rachel Nova, BFA, MA, Artist
All images © Rachel Nova
Archives
Calendar
September 2023
M
T
W
T
F
S
S
1
2
3
4
5
6
7
8
9
10
11
12
13
14
15
16
17
18
19
20
21
22
23
24
25
26
27
28
29
30
Categories