The name Rachel Nova was birthed over a decade ago. While working on my BFA, my paintings looked a lot like supernovas at the time and the name stuck ever since. I post my creative journey under Rachel Nova.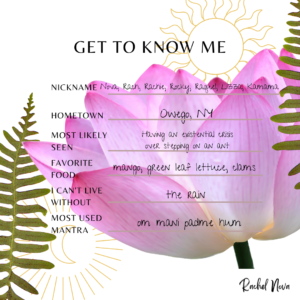 My American Indian (I am both Cheyenne and Cherokee) name is Rainbow (Rachel) Kamama (Butterfly in Cherokee) Hetohke'e (Star/Sun Woman, woman who comes from the stars in Cheyenne) that latched onto me during my journey as a yogi, the name had been lost in my heritage, but found once again. I go by Kamama Mama for short, and it is the name I use for my yoga lifestyle/journey, for lifestyle in general: this includes mostly alternative lifestyles that I find interesting or have experience living such as converting and living in my van, traveling while working remotely, spiritual activism, adventure lifestyle, mountaineering, healing arts and much more! Although I grew up in a small farm town in Western NY, I imagined the world as my oyster: I am accepted in my hometown as the black sheep (rainbow sheep), always having big dreams to see the world as a small-town girl.
Rachel E Juliette is my poet's name that was birthed while living on the Northern coast of Ecuador and is the name I write my poetry under.
My True North Astrology is my little astrologer gig that I am absolutely in love with. The science of astrology has always been a hobby and fascination of mine. I have mainly just read astrology for others as a 'word of mouth' act of service/donation-based that is super fun for me, however, I want to start to write more and help more people by way of astrology as a fun and fascinating tool for self-development. 
Lastly, Rainbow Warriors is the place where I will post mostly about children's art activities and children-related content like children's books I write, art, lifestyle/parenting, learning material, and more. I love the name Rainbow Warriors because in my American Indian heritage, it is a term used for those who want to make the world a better place and that is my vision for this content and the overall feel of this website.
My legal name is Rachel Howard and I own my own private practice in the state of California, SF Bay Area called Rachel's Heart Therapy where I work as a licensed psychotherapist and Registered/Certified Art Therapist by way of telemedicine. I travel and work remotely with my clients. In my practice, I work with all age groups, but mostly I work with children, families, and couples. I absolutely love it. This website will be all the things I do and am interested in that are not related to my work as a therapist, but what I am spending my time doing when I am not being a therapist. I have many interests and I have been dreaming up this website for a long time, my intention for this website is to act as a tool for my own creative journey, my growing portfolio that never gets dusty on the shelf, and my lifestyle as well as build community perhaps and document and keep track of some highlights and the things I learn along my journey that I want to share with you. I hope to also expand this website into even more pages with different kinds of content. I am excited to be here and to share and connect with you.
Thank you dear loved ones.
Om Shanti, Om Shanti, OM.
The light in me bows to the light in you,
All my names, and the greatest name.