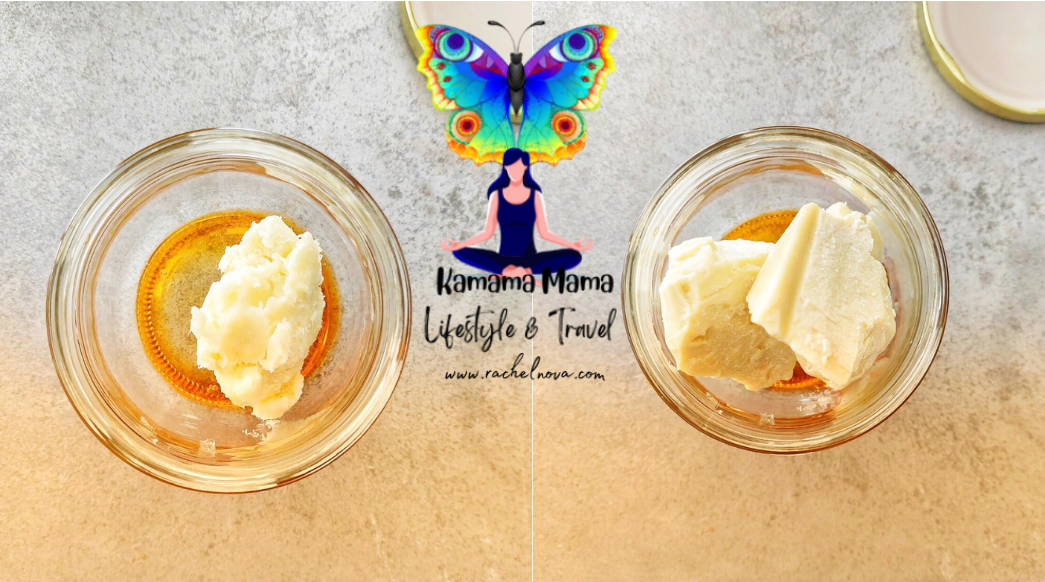 Written by rachelnova on January 24, 2022
Natural Body Butter DIY!
Travel and Lifestyle
Welcome to this beauty-self-care-wellness-DIY-natural potions and lotions blog post!

I felt inspired to share. I always love reading these kinds of blog posts to get ideas and inspiration for DIYs. I have been making my own body butters for years. It is so much fun. My skin and intuitive nature love to be able to control the ingredients. I like that I can feel out what my skin is needing and I also know that there are no parabens, unnatural fragrances, heavy metals, and others being absorbed.
Who else grew up going to Bath & Body Works and spending hours smelling all the goodness and ignoring the long list of ingredients on the bottle — all things I could not pronounce. I was in middle school, so I did not know any better. I remember my favorite lotion in the whole world was called Vanilla Bean Noel lotion (from Bath & Body Works) and I would get it every year for Christmas. Not in the last decade or so – when I turned into a righteous natural hippie. Yup, no more Vanilla Bean Noel!

I needed more body butter so I made this combo butter today and thought I would document the process for you.
Here is what you need: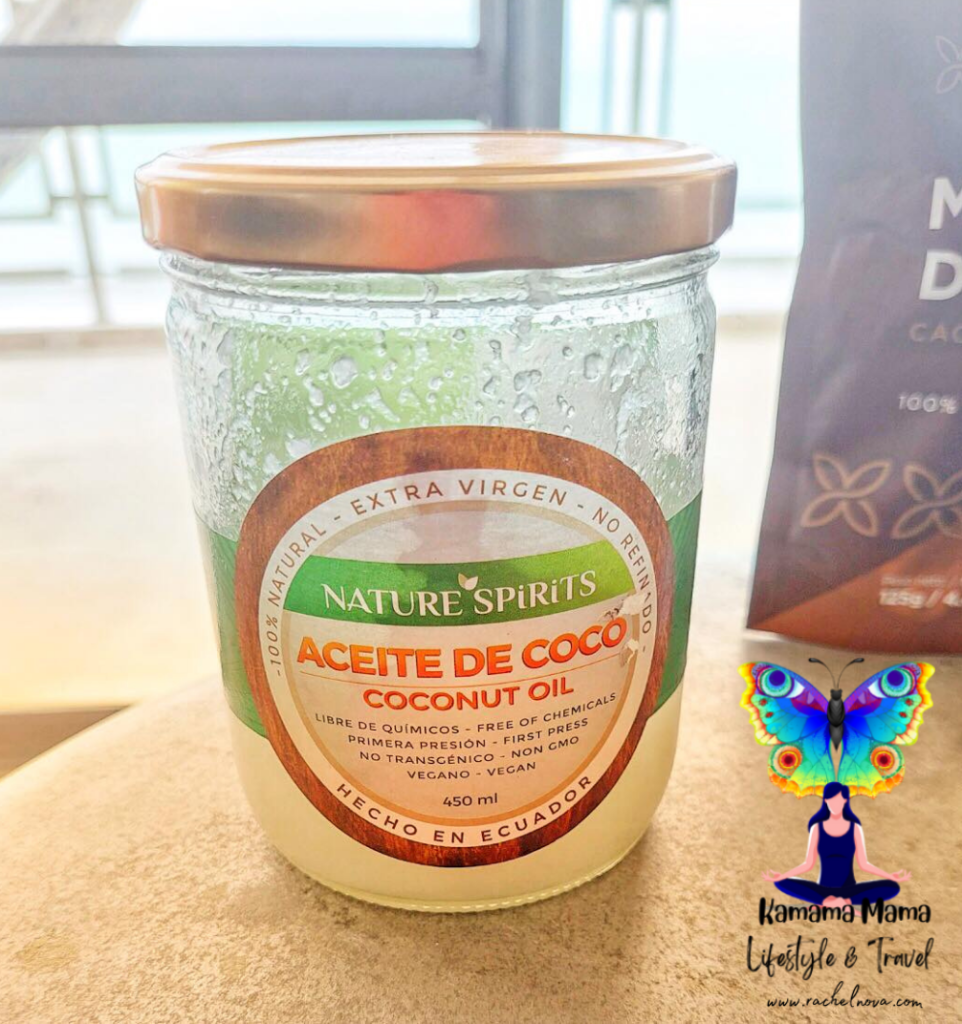 I ended up adding a little coconut oil at the end because I felt I needed it. I do not measure anything! Shea butter, cocoa butter, and carrot seed oil were my main ingredients. I have been loving carrot seed oil because it is protective from the sun with around 30-40 SPF – pretty high in comparison to other oils. All 3 of these are high in antioxidants and have anti-inflammatory properties. They are all high in vitamin E and I feel it helps my skin to repair from all I expose it to. Cacao butter has a little bit of caffeine in it, so if you do not want any caffeine being absorbed into your body, I would stay away from this butter. I am pretty caffeine sensitive, and I tend not to grab for it all the time (or just add a small amount), but today my skin was calling for it. It smells AMAZING – better than Vanilla Bean Noel – yes yes yes!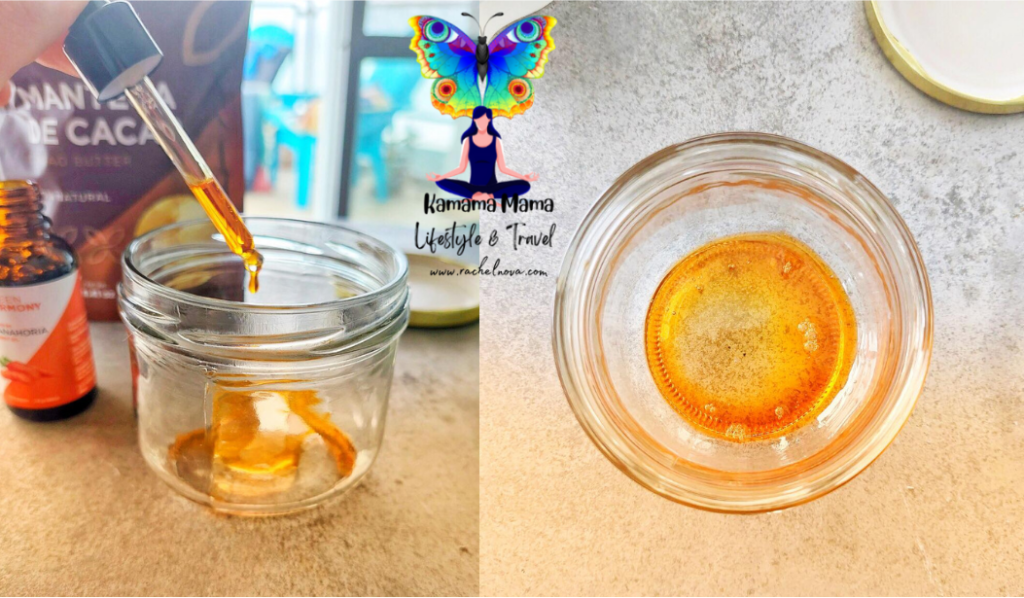 I filled my jar up with some carrot seed oil. I have a kind that is not supersaturated as it is not an essential oil so I filled a few droppers full to coat the bottom of my glass jar.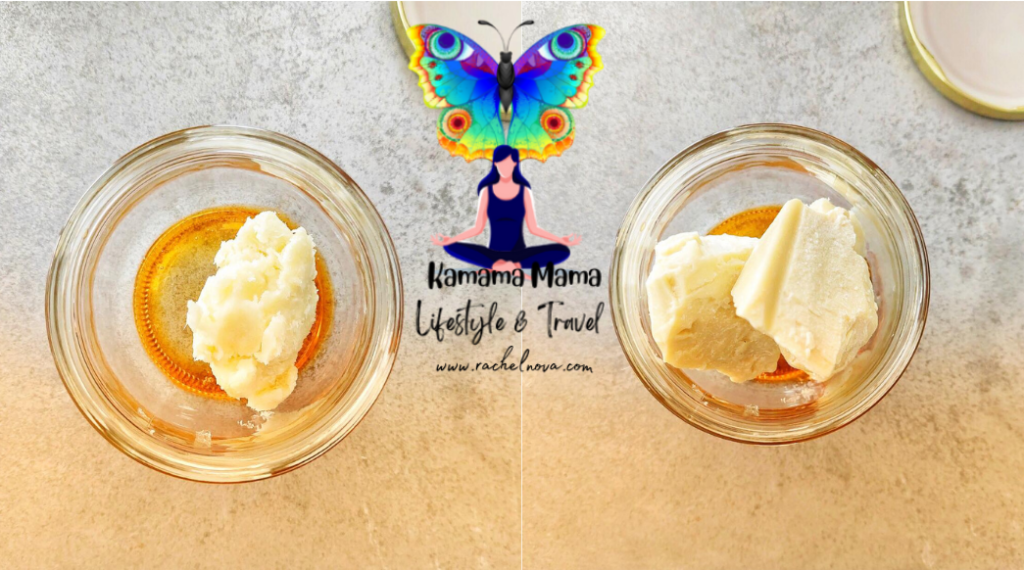 Alright! Now, I added in my two kinds of butter and also some coconut oil.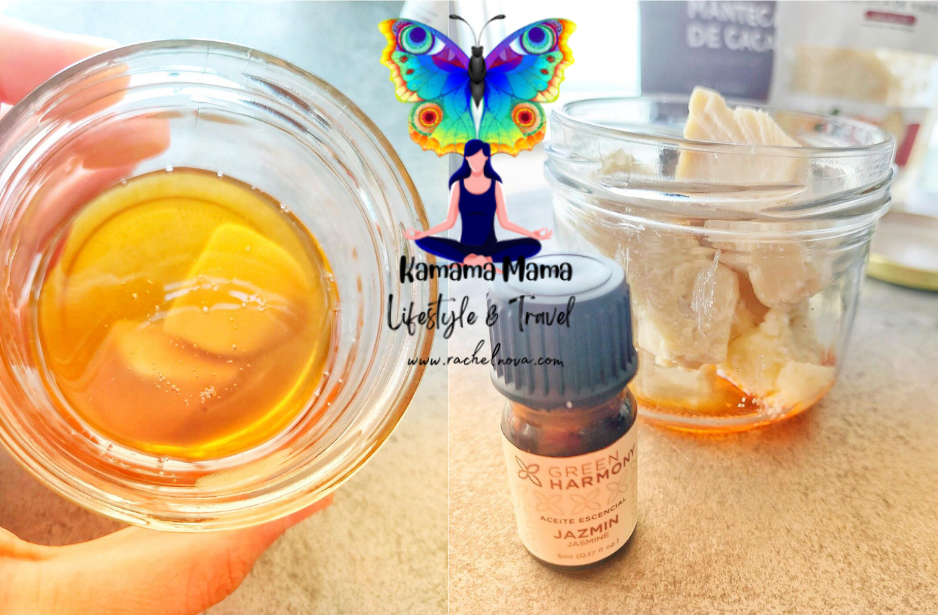 I melted it on the stove by putting the jar in some hot water. You can also use a microwave. I decided to add just one drop of jasmine essential oil to it!

All these products I bought through my dear Angie within Ecuador. These are the best quality natural products I was able to find here. You can use the best products that you have available to you. I am a total organic girl at heart. I always try to get organic/products that claim that they use organic methods. There is a Young Living in Ecuador, but I personally do not get Young Living products anymore or products through any MLMs as that system is just not for me.
With sunshine and love,

Rachel Nova
Kamama Mama – Natural beauty & DIY lover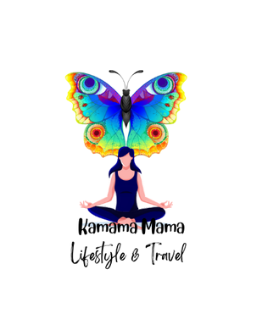 All images © Kamama Mama – Rachel Nova

Friendly reminder (disclaimer): Please consult with your doctor before using any of these kinds of products. It is important to note that I am not a doctor. I take the risk myself in trying these natural products and I do a small skin test when I try something new to check for any reactions. These natural products have a very high content of nutrients and our bodies may not be used to them. There are some holistically minded doctors out there that might be the best resource for you to consult beforehand.
Archives
Calendar
October 2023
M
T
W
T
F
S
S
1
2
3
4
5
6
7
8
9
10
11
12
13
14
15
16
17
18
19
20
21
22
23
24
25
26
27
28
29
30
31
Categories